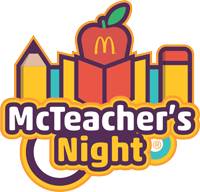 McTeacher's Night
McTeacher's Nights are an opportunity for schools to partner through a fundraising event held at McDonald's Restaurants. Schools receive a donation based on a percentage of sales on a specific evening. Principals, teachers, and administrators help with the event — selling cookies, welcoming guests, or helping with other assigned duties.
Schools keep 100% of tips received from the event. Contests are available for students and classrooms to encourage attendance. McTeacher's Nights are available on Monday, Tuesday, and Wednesday evenings. For more information or to get started, please contact us.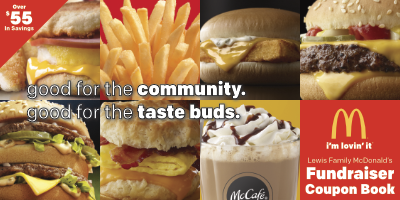 Coupon Books
Our coupon book fundraiser is a great way to support your organization through the sales of coupons. Each coupon book contains more than $55 in savings. Your organization keeps a portion of every coupon book sold. There is no limit to the number of coupon books that you can sell.
This fundraiser is a great option for schools, sports teams, non-profit organizations, scout programs, and more! The coupon fundraiser typically lasts 2-3 weeks. We will provide order forms and tracking sheets to help you and your organization track your sales. For more information or to get started, please contact us.